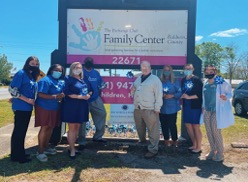 Please call 251-479-5700 for more information about any of these opportunities.
FUNDRAISING: If you would like to host a fundraiser for our benefit, we will be more than happy to work with you.
MAINTENANCE: Our playrooms for families require regular upkeep and cleaning. If you are good with elbow grease, this is the job for you. Or help us keep our grass green and trees trimmed at our Robertsdale office.
CLIENT FOLLOW UP: Calling participants after they finish programs to check-in and inquire how they are doing and keeping records of the phone calls.
GRANT WRITERS: If you are an experienced grant writer with the desire to search for new avenues of funding for the Gulf Coast Family Center there is certainly a need for your talents.
CLERICAL / DATA ENTRY: Involves data entry using Excel format, retrieval of data from client files, file maintenance, copying, and answering phones.
INTERNS: Interns are welcome from any discipline related to social/human services, marketing, public relations, or health education and nursing.